EPOXY AND DECORATIVE FLOORING
Epoxy flooring is a system using resins and hardeners to create layers upon layers of epoxy. The finished product is so strong that it can withstand even the most aggressive industrial environment.
Below are some of the specific epoxy and decorative floor projects we have completed.
Quartz Flooring
Duron's decorative quartz flooring combines the durability of a thicker epoxy flooring with a decorative coloured aggregate finish. Colours are customized for each project to give the owner complete freedom of expression. Divider strips, multiple colors, and patterns are all options that are skilled trowel mechanics are fully able to install. This medium duty flooring is ideal for hospitals, processing plants, locker and washrooms, laboratories and schools.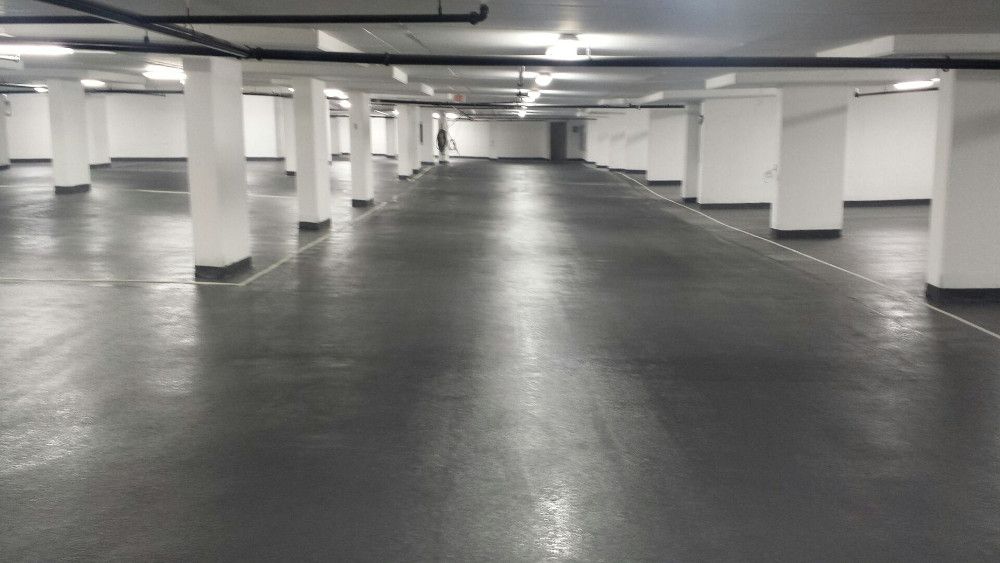 Coatings
Available in a rainbow of colours, these coatings provide the necessary protection against chemical attack, moderate abrasion while remaining extremely economical. Seamlessly applied, these coatings can provide continuous protection across floors and up vertical surfaces for containment purposes. Typical applications include manufacturing plants and process pits, food plants, machine shops, mechanical rooms and high traffic corridors.
Terrazzo Flooring
Duron's epoxy terrazzo installations are ideal solutions for permanent decorative flooring applications. The ground decorative marble or glass aggregate finish of the epoxy terrazzo is a classical durable finish. Unlike normal cement terrazzo's, epoxy matrix terrazzo is thin (6mm-10mm), does not shrink, crack or curl, can be conductive and is impermeable to bacterial growth. Used for decades in the hallways and surgical suites of hospitals, terrazzo's benefits of low maintenance and durability are a fact that outweighs the higher and initial costs of the product. Terrazzo is the ideal choice for shopping malls, hospitals, and public buildings where a decorative, permanent finish is desired. Our installations with our skilled mechanics have won us awards and praise for the multi-colored and multi-patterned floor designs which we have installed.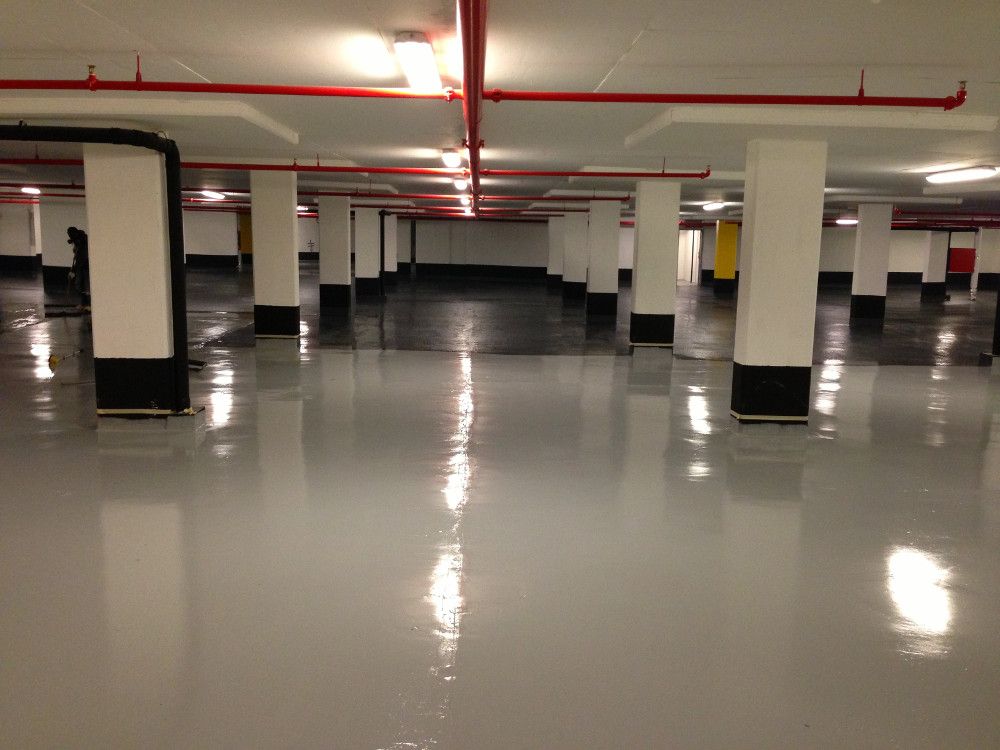 Industrial Flooring
These flooring systems are custom designed to be installed quickly with minimum downtime. In addition to the chemical resistance normally associated with epoxy flooring, the increased thickness of these floors and their high compressive strength are well suited for heavy traffic users, providing years of maintenance free service. Typical applications include aisle ways, food production and pharmaceutical facilities, loading docks and garbage rooms.
Traffic Toppings Systems
Duron's experience with traffic toppings systems is simply unparalleled. Since 1959, we have installed epoxy, urethane, Duromastic, asphalt and concrete traffic toppings systems to hundreds of parking structures across Canada. Second to none, our experience with new and existing garage decks allows us to provide the owner with invaluable expertise in selecting the correct protective system for any type of structure. Whatever your application, we have the system to meet your needs.
Floor Repair and Sealing
Duron delivers a full range of epoxy and concrete floor repair services including: crack and joint repair, floor sloping and grinding, waterproofing, dust proofing, floor sealing, concrete rehabilitation, and structural restoration. Regardless of the size and technical requirements of your project, Duron has a solution to meet the most challenging flooring needs.